Patient-Reported Outcomes in Performance Measurement
David Cella, Elizabeth A. Hahn, Sally E. Jensen, Zeeshan Butt, Cindy J. Nowinski, Nan Rothrock, Kathleen N. Lohr
This book addresses the major methodological issues related to choosing, administering, and using patient-reported outcomes (PROs), particularly in clinical practice settings.
PROs are measures of how patients feel or what they are able to do as they are dealing with chronic diseases or conditions. Based on questionnaires completed by patients without any modification of responses by clinicians or others, PROs reflect the patient's point of view. They provide information on a patient's health conditions, health behaviors, or experiences with health care. PROs cover domains such as physical health, mental and emotional health, functioning, symptoms and symptom burden, and health behaviors.
Basing their advice on both classic and modern test theory, the authors describe best practices in using PROs in performance measures while accommodating patients with diverse linguistic, cultural, educational, and functional skills. They examine complex issues relating to scoring and analyzing PRO data, but they do so in straightforward way, often using nontechnical language with clear examples.
Their discussion and recommendations are easy to understand for audiences both experienced in PRO measurement and those new to the field.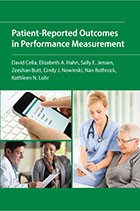 Praise for Patient-Reported Outcomes in Performance Measurement
"Here it is, all in one place. A compact book on patient-reported outcomes beginning with the idea and ending with implementation for performance measurement and integration in electronic health records. A great resource from a team of experts."
—Eugene C. Nelson, DSc, MPH, Professor, The Dartmouth Institute for Health Policy and Clinical Practice
"NQF supported this seminal work to help amplify the essential patient voice in quality measurement. This work provides the right balance of science and practical advice needed to move patient-reported outcomes into the mainstream of performance measurement."
—Helen Burstin, MD, MPH, Chief Scientific Officer, National Quality Forum
"Measurement of patient-reported outcomes is the next frontier in health care delivery quality assessment.  Although interest is rapidly growing to integrate the patient's voice into performance evaluation, guidance is limited on how actually to go about doing this. This monograph provides invaluable practical and methodological insights for those aiming to integrate patient-reported outcomes into a quality program, ranging from selection of outcomes, to measures, analysis, and reporting."
—Ethan Basch, MD, MSc, Director, Cancer Outcomes Research Program, University of North Carolina at Chapel Hill
View more RTI Press publications here: https://www.rti.org/rti-press
RTI Press publishes peer-reviewed research reports, methods reports, policy briefs, research briefs, conference proceedings, and books and monographs to communicate knowledge from our discoveries, innovations, and research findings and to support emerging areas of strategic importance.
For more information: rtipress@rti.org