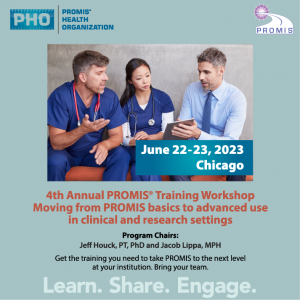 Missed the PROMIS Training Workshop? 
Recordings
Now Available
Get the training you need
on your own time
16 Presentations from PROMIS Experts
Learn how to get started with PROMIS
and how to use PROMIS measures in clinical care
"This was a a very innovative, forward-thinking group. It inspired me."
"Collection and interpretation of PROs are critical in transforming our healthcare systems."
The most valuable thing I learned: "How other institutions have focused/gone about their implementation."
Presenter Feedback
"It was wonderful to see all of the excitement at this workshop, and the real passion that clinicians shared around using PROMIS. They are really listening and understand how it's made a difference in how they communicate with patients. The presenters shared really concrete hands-on examples that I'm going to take back and share with my colleagues."
Sara Ahmed, PT, PhD
McGill University, Montreal, Canada
Registration package includes the following 16 presentations:  
Day 1
Welcome/Opening Comments
Jeff Houck, PT, PhD and Jacob, Lippa, MPH
Program Chairs
PROMIS: Building on Our Foundations, Embracing Our Future
David Cella, PhD
Northwestern University, Chicago, IL

Track 1:  Getting Started with PROMIS
Item Response Theory (IRT) & Computerized Adaptive Testing (CAT)
Richard Gershon, PhD
Northwestern University, Chicago, IL
Cross Walk Development
Xiaodan Tang, PhD
Northwestern University, Chicago, IL
How to Select a PROMIS Measure 
Nan Rothrock, PhD
Northwestern University, Chicago

Track 2:  Using PROMIS in Clinical Care
The TRIFECTA: Using PROMIS to Inform Shared Decision-Making, Guide Individual Patient Care and Improve Workflow
Judy Baumhauer, MD, MPH, University of Rochester
Rochester, NY
How to Secure Institutional Buy-In for PROM Capture
Eric Makhni, MD, MBA
Henry Ford Health Care, Detroit, MI
Creating Value with Patient and Clinical Feedback of PRO Scores
Chris Gibbons, PhD
MD Anderson Center, Houston, TX
Day 2
Brilliant: Integrating and Scaling PROMIS for Individualized Rehabilitation
Sara Ahmed, PT, PhD
McGill University, Montreal Canada

Track 1: Getting Started with PROMIS
Analyzing and Interpreting PROMIS Scores
Amy Cizik, PhD, MPH
University of Utah, Salt Lake City, UT
IT Options for Implementing PROMIS
Michael Bass, MS & Madeleine Nicholson, MPH
Northwestern University, Chicago, IL
Implementing PROMIS in Epic at Duke Health 
Maggie Horn, DPT, MPH, PhD
Duke University, Durham, NC
Implementing PROMIS at Henry Ford Health System "A Patient Centered Journey"
Steven Chang, MD
Henry Ford Health Care, Detroit, MI

Track 2: Using PROMIS in Clinical Care
Leveraging PROMIS in Clinical Care and Research in Orthopaedics
Maggie Horn, DPT, MPH, PhD
Duke University, Durham, NC
PROMIS in Cancer
Samantha Tam, MD
Henry Ford Health Care, Detroit, MI
Identifying Emotional Distress with PROMIS 
Susan Bartlett, PhD
McGill University, Montreal Canada
Adopting PROMIS in Primary Care and Physical Therapy
Ryan Jacobson, PT, DPT, PCS
George Fox University, Newburg, OR